In recent years, with the full implementation of the "plastic restriction order" policy and the wide popularization of environmental protection culture, more and more catering stores have begun to practice the concept of sustainable development and promote green consumption. Choosing aluminum foil lunch boxes that take into account both safety and recyclability to replace traditional plastic and paper lunch boxes is one of the key links.
Picture 1.png
As we all know, in the past, aluminum foil lunch box products were more used in the field of drug packaging and high-end food packaging. Because of its high production cost and more strict process requirements, it is difficult to promote it comprehensively. Fortunately, after years of continuous development and improvement, China's aluminum foil products industry has a high standard of manufacturing level, quality level and supply capacity, and has formed a mature industrial chain and operation system. Therefore, it can respond to the needs of various industries for aluminum foil products at the fastest speed. Among them, Guohong aluminum foil, as a leading brand focusing on the research and development of food grade aluminum foil containers for decades, has won the favor and choice of catering practitioners with high-quality aluminum foil lunch boxes and professional service means.
"For a long time, many restaurants are used to using plastic lunch boxes to pack food. On the one hand, it is affected by the environment; on the other hand, it is also considered to control costs. However, practitioners tend to ignore the harm of plastic lunch boxes. For example, the raw materials used may be fake materials and waste plastics of unknown origin, which may have adverse reactions with food. Compare again For example, plastic lunch boxes will release harmful substances when contacting high-temperature food and water, which will affect human health. The reason why we devote ourselves to the research and development of aluminum foil lunch boxes is that we hope to convey a more scientific concept of life to practitioners and consumers with high barrier, good high and low temperature resistance and harmless and hygienic packaging products. " Guohong aluminum foil technology manager told reporters.
It is understood that since its inception, Guohong aluminum foil has always adhered to the business purpose of "quality achieves reputation and specialty wins development", and is committed to creating a series of aluminum foil lunch box products with excellent quality and stable performance. On the one hand, in order to realize the organic combination of high efficiency and high standards, Guohong aluminum foil has specially introduced 20 sets of high-end imported equipment to build a large-scale and professional automatic production mode. Under this mode, Guohong aluminum foil has rapidly expanded many production lines such as aluminum foil lunch box production line, tin foil production line and automatic packaging line, and has more than 10000 popular categories on the market, reaching a shorter delivery cycle.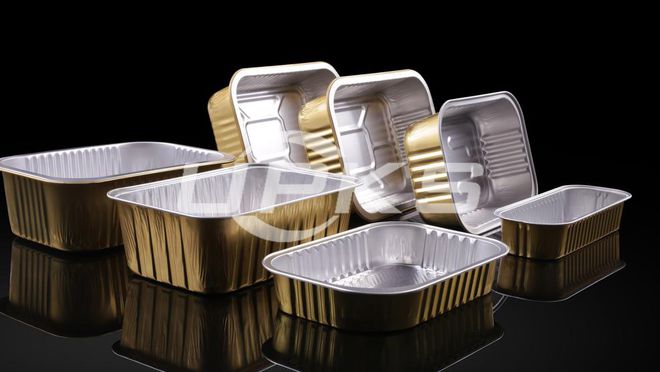 On the other hand, considering that the aluminum foil lunch box is closely related to human health, Guohong aluminum foil is also cautious in the selection of product raw materials. Finally, it has finalized the selection of food grade thickened aluminum foil material, which is not only non-toxic, harmless, safe, hygienic, green and energy-saving, but also outstanding in sealing. At the same time, because Guohong aluminum foil adopts high-temperature annealing disinfection process in production, it can also eliminate the breeding of bacteria and microorganisms from the source. What is more worth mentioning is that Guohong aluminum foil series products have already passed a number of well-known certifications at home and abroad, supplemented by strict quality inspection procedures to ensure product quality.
It can be said that Guohong aluminum foil always adheres to the combination of the design concept of green environmental protection and the diversified needs of various catering stores, runs through the whole R & D process with high standards and strict requirements, and strives to create a quality first aluminum foil lunch box, helping thousands of catering practitioners write a new chapter of development!
Article label: